National Aeronautics and Space Administration
Since 2010, we have supported the NASA Goddard Space Flight Center (GSFC) with a wide variety of services across five separate contracts. Currently, we support the Program Analysis and Control (PAAC) IV and Programmatic and Institutional Knowledge Exchange Services (PIKES).
Case studies from two of our NASA contracts, are provided below as examples of our outstanding support.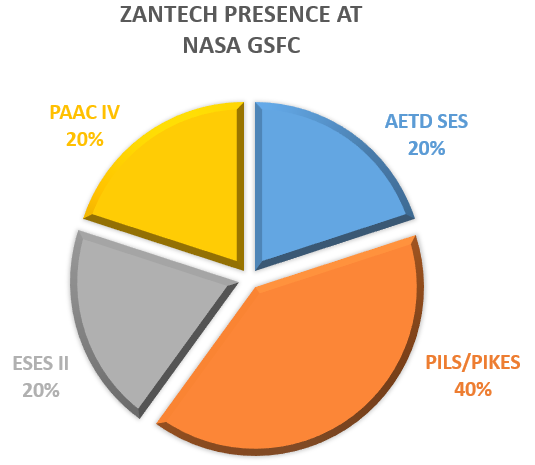 CUSTOMER
NASA GSFC Applied Engineering and Technology Directorate (AETD), Software Engineering Division (SED)
CHALLENGE
Support the GSFC Software Engineering Services (SES) project with system administration, network administration, system engineering, and configuration management.
ACTIONS
Provided system administration, network administration, system engineering, and configuration management activities for the Earth Operations Systems (EOS) Operations Center ground systems.
Provided development support for the Goddard Mission Services Evolution Center (GMSEC) products including analyzing requirements, generating design, implementing, testing and providing all required documents in accordance with NPR 7150.2, NASA Software Engineering Requirements.
Maintained the GMSEC Integration and Test Facility, which is used in support of reengineering activities for the Magnetospheric Multiscale Mission (MMS) and Terra mission automation integration and testing.
Provided maintenance support for GMSEC components including analyzing discrepancy reports, implementing code fixes, and testing and providing all required documents in accordance with NPR 7150.2
Supported ground systems for the Earth Operations Systems (EOS) Program, primarily supporting the Earth Science Mission Operations (ESMO) project and some shared support to the Earth Science Data Information Systems (ESDIS) Project.
Provided the maintenance and web application services for the software modules on the Space Operations Learning Center (SOLC) website and other relevant applications.
Performed software development and maintenance for the Integrated Design Center (IDC) which comprises three engineering design facilities: Mission Design Lab, Instrument Design Lab, and Architecture Design Lab.
Supported system administration for all SED and IDC facilities computers, IT equipment within labs, desktop non-ACES non-lab computers, and peripherals.
"Zantech has been providing outstanding services in developing the SOLC modules to support NASA's education and outreach effort. The quality of the deliverables have been excellent. Zantech has also done an outstanding job in revamping the IDC web portal by eliminating numerous vulnerabilities and increasing several functionalities."
CUSTOMER
NASA GSFC Programmatic Institutional Learning System (PILS) / PIKES 
CHALLENGE
Support GSFC sponsored events held at various locations including local, national, and international sites.
ACTIONS
Provide project management support for the full range of events for NASA Headquarters (HQ) and NASA GSFC PILS / PIKES at local and remote sites which included attendees from across the U.S. and international space community.
Support a range of media services to include creation and production of event proceedings and publications.
Create and maintain databases and web pages for specific event logistics and registration information.
Use databases to perform records management including, track events, travel costs, and event close-out actions.
Provide administrative support including: making reservations for lodging and meals that comply with the Federal Travel Regulations (FTR) and NASA Financial Management Requirements (FMR); processing invitational travel orders in accordance with the FTR and FMR; and coordinating with HQ and GSFC security to ensure that all event participants have the appropriate security approval for access to NASA facilities.
Provide project management and coordination for a wide range of NASA committees and organizations to support meetings and special events that are part of the NASA operational environment.
"The Zantech management team has been excellent in communicating with the Government. Over the last several years, Zantech management has been regularly meeting with the Government to ensure quality services are provided and to address any issues/concerns that may arise."