After years of providing the Department of State (DOS) with IT support services, we have established an in-depth understanding of the DOS operations environment. Over the past five years, we have supported the DOS on eleven separate contracts, within five Bureaus.
Case Studies, from two of our DOS contracts, are provided below as examples of our outstanding support.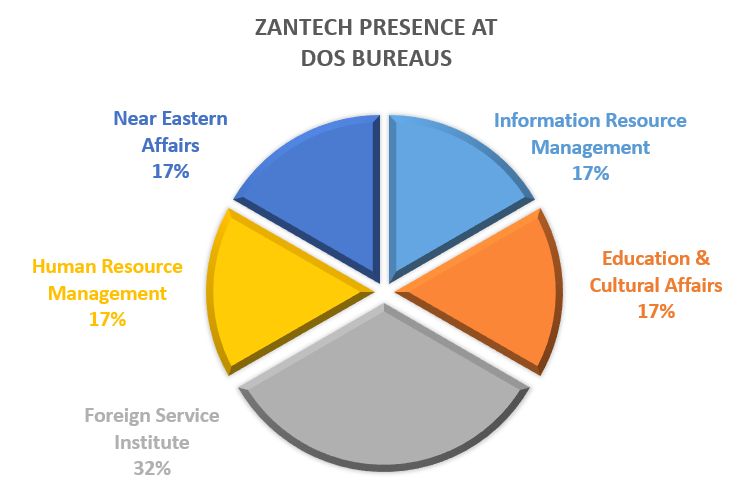 CUSTOMER
Foreign Service Institute (FSI)
CHALLENGE
Support the research, development, implementation, and maintenance of IT software solutions that support business processes.
ACTIONS
Provided operational support to FSI on issues associated with corporate technology and software relating to several Federal initiatives.
Adhered to DOS Standard Operating Procedures and supported the Corporate Systems Program Management Office (PMO) in maintaining program management standards, monitoring, and controls.
Supported the implementation and improvement of Standard Operating Procedures and management processes.
Provided expert support to FSI decision makers in coordinating the implementation and support of multimedia learning applications.
Managed and conducted off-the-shelf implementation and testing services.
"[Zantech] has done a terrific job of taking charge of the very complicated task of leading the Virtual Student Foreign Service interns, systematizing the program, and using their skills appropriately. The Team has also made a number of excellent recommendations to improve overall program effectiveness. I had the opportunity to provide the HR/OAA Deputy Director with a demo of the SharePoint site which was established by the Team and DOS management was simply blown away."
CUSTOMER
Video Captioning Implementation (VCI)
CHALLENGE
Design and implement an automated workflow system that will enable the agency to close caption and subtitle unclassified video content, including live and post-production videos, ensuring compliance with Federal Section 508 standards.
ACTIONS
All videos submitted to vendors for closed captioning, subtitling and translation services maintained a 99.4% acceptance and compliance rate based on the standards established and implemented by Zantech. This resulted in a high level of accuracy, compliance, and government first time acceptance of all vendor delivered 508 compliant videos.
Established and implemented the system (i.e., funding, contracts, staff, tools, technology, workflows, procedures, policies, etc.) necessary to caption the Department's unclassified video content, including live and post-production videos and multimedia players.
Performed full lifecycle documentation, development, testing, and implementation of all requirements, procedures, and processes.
Created governance policies and procedures, developed and maintained a SharePoint website that provided an automated solution for requesting and tracking videos requiring 508 compliance actions to be implemented.
Created and implemented an Amazon AWS secure cloud infrastructure that enabled the government to have a single point for uploading and downloading video content requiring external vendors to perform close captioning, sub-titling, or translation services.
Performed verification and validation on delivered video content certifying accuracy standards were met on each deliverable.
"So impressive to other government agencies during demonstrations that several of them are modeling their designs and implementations based on the solution developed, designed, and implemented by Zantech."