Navy SeaPort-e
Our Team brings together the extensive capabilities of the following:
Zantech, the prime contractor, is a small disadvantaged business (SDB) that provides a full range of program management, software development, systems engineering, and integration services. Zantech integrates advanced technologies with clients' legacy systems to improve operational efficiency and increase return on customers' IT investment. Zantech works with its customers to establish a performance baseline backed up by meaningful metrics that are easy to measure.
Members of Team Zantech include:
Capstone Corporation is a large business that provides leading global services and solutions that support customers in over 26 states and seven overseas locations. The Military/Civil Operations (MCO) Business Unit is a market leader in planning, operations support, and training and exercise support at the tactical, operational and strategic levels in support of homeland security and military mission areas. The Enterprise Systems Support (ESS) Business Unit offers the full spectrum of information technology solutions and support services to meet customers' technology, communication and security requirements.
Columbus Technologies and Services, Inc., a large business headquartered in El Segundo, California with locations throughout the country, is dedicated to customer satisfaction and to providing high quality support in the areas of Information Technology, Software, Science, Engineering and Professional services. Columbus offers software engineering, training systems, web and database development, IT infrastructure, IT security, hardware engineering, logistics, scientific research, and professional services.
Engineering and Advanced Support Technology, Inc., (EAST), a woman owned small business, has been providing program support to DoD prime contractors for government acquisition programs, which have included complex hardware and software systems. Support services have included program and logistics management, testing and test support, training analysis and documentation, technical data and documentation, configuration management, quality assurance, safety assessments, and risk management expertise.
Engineering, Management & Integration, Inc. (EM&I), a small business, assists complex organizations adopt, manage, and optimize technological and organizational change. Their expert consultants bring an average of more than 20 years experience in the areas of strategy, governance, and engineering. EM&I's Systems Engineering & Life Cycle Management solutions provide a means for designing, assuring, and integrating clients' IT infrastructure.
Logistic Management Resources, Inc. (LMR) is an employee-owned small business specializing in worldwide Federal Government Logistics services. LMR's core competencies and capabilities include: project management, business process analysis, system design and development, system implementation and training, system sustainment and installation support.
Savvee Consulting, Inc., a service-disabled veteran-owned small business, provides Net-Centric solutions and Net Ready Key Performance Parameter (NR-KPP) compliance within the U.S. Navy and especially within the NAVAIR community. Savvee provides valuable guid-ance and technical expertise to NAVAIR programs, ensuring complete compliance with NR-KPP mandates and providing the right solutions to the warfighter.
WR Systems (WRS), a large business, provides engineering technical services and systems integration and support to the U.S. Navy's mission-critical navigation and ship control systems. WRS currently provides support to the Space and Naval Warfare Systems Command, Naval Systems Warfare Centers, and the Naval Sea Systems Command. Support includes a wide variety of IT services including IV&V, quality assurance, program management, application and database development, business modeling, and legacy systems migration.
Quality Assurance
Zantech's corporate Quality Assurance (QA) Program reflects the principles set forth in Zantech's ISO 9001:2015-registered Quality Management System (QMS) and is consistent with SEI CMMI® and IT Infrastructure Library (ITIL) best practices. Our closed loop QA process is supported by structured procedures to ensure effective performance in all aspects of a project life cycle. These procedures are aligned with ISO 9001:2015 standards and are supported by SEI CMMI Level 3-assessed process areas. All aspects of the business cycle are subject to compliance monitoring and executive review.
Zantech's Quality Policy is built on basic principles:
Customer-centered approach
Do it right the first time
Early detection of problems/errors
Employee empowerment
Effective leadership
Informed decisions
Continuous improvement
Zantech flows down the tenets of its QMS to all employees and Team members working on its contracts. The high level elements of our Quality Policy provide a common sense approach to ensuring that Zantech Team employees work with our customers to achieve high quality in our products and deliver high quality services. A Task Order QA Plan is prepared and reviewed with each employee as part of Task Order start up. These sessions emphasize each individual's role in ensuring that "quality is built in" in everything they do. The staff is familiarized with the top-to-bottom approach to product and process quality reviews to be conducted by the onsite team. Several of the basic tenets of our QA approach include:
Project planning that incorporates definitive performance measures and metrics
Emphasis on eliminating deficiencies from the outset
Continuous monitoring of performance against plan
Proactive involvement of all levels of management in delivering quality
Open communications across the team to benefit from lessons learned.
This structured QA approach ensures that the Zantech Team will remain focused on providing excellent service that supports the successful accomplishment of SeaPort-e Task Order objectives.
Contact Information
Contract Zones
The Zantech Team is currently authorized to provide services under the SeaPort-e contract in four geographic zones—National Capital, Mid Atlantic, Gulf Coast, and Southwest—as defined in the map.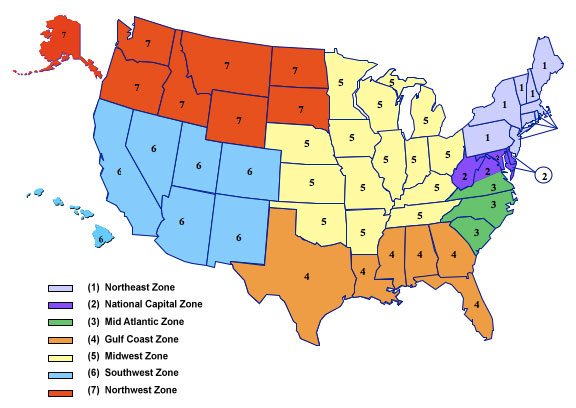 Task Orders
This space will be used to identify and provide links to Task Orders awarded to Zantech under the SeaPort-e contract.